How to use the BabetteBeads Gallery:
Our Gallery is structured into two sub-sections, one section for necklaces that are available to be purchased, and another section for necklaces that have already sold.
Each section follows the same layout consisting of an image of the piece along with the necklaces number, glaze information, and descriptive text outlining its unique characteristics including chord and knot types as well as bead forms and arrangements. An example can be seen below.
Please note that each necklace image when touched by your mouse will reveal an alternate view usually showing the intricate clasp for the piece. Also when the image is clicked, a larger format detail shot will appear to show you a closer view of the glaze and knot configurations uniquely composed for each of our spectacular jewels.
Please enjoy!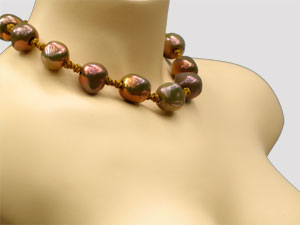 # 1106 - SL 539
Bold and beautiful, this necklace is made of 13 large gold and light pink iridescent beads assembled on a 17" long gold cord. Snake knots as well as 2 Pan Chang knots separate the beads. The clasp consists of Flat knots and a Chinese Button knot finishes the piece. This necklace is boxed in a satin lined envelope.