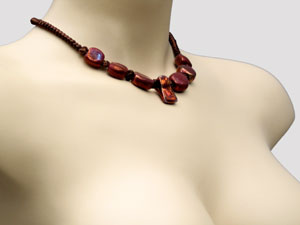 # 92803-07 - SL 910.1
Rich in color, this simple necklace could accommodate a sporty as well as dressy wardrobe. Copper, gold, and red in color, this design focuses on a central oblong flat drop bead surrounded by 3 horizontal smaller oblong beads on either side. Placed in between each bead, Snake knots are covered by X-knots. The neck area of this beautiful 16-1/2" long piece features Snake knots along its length and Flower Pan Chang knots at each end of the cord. Another oblong bead is used for the clasp with Flat knots for the loop. For storage, a brown crocodile envelope is provided with this gorgeous piece.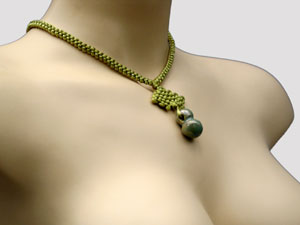 # 1301 - SL 942

Simple but elegant, the 18" long light green cord complements the iridescent light green and silver beads. A well designed Split Pan Chang knot holds the one double shaped bead. Additionally, a Phoenix Tail knot technique is applied around the neck area of the cord. Another bead, oblong and highly iridescent, is used for the clasp with a Flat knot for the loop. The necklace is placed in a black linen box with velvet lining.