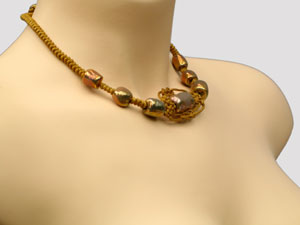 # 1105 - SL 338 - SOLD
This charming and unique 18" long necklace is composed of 7 tubular beads and an oblong bead used for the clasp, each of a rusty gold iridescent color. Pan Chang knots encircle the center bead and Snake knots are placed in between the other beads. The clasp is originally made of Flat knots in association with Double Connection X-knots. The beads are assembled on a gold cord and stored in a rust colored envelope. A power accessorie to be worn anytime and anywhere with anything.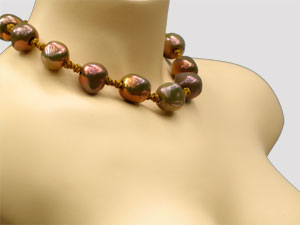 # 1106 - SL 539 - SOLD
Bold and beautiful, this necklace is made of 13 large gold and light pink iridescent beads assembled on a 17" long gold cord. Snake knots as well as 2 Pan Chang knots separate the beads. The clasp consists of Flat knots and a Chinese Button knot finishes the piece. This necklace is boxed in a satin lined envelope.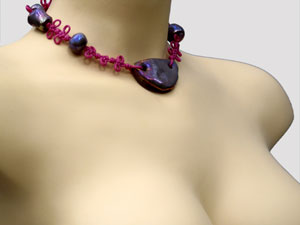 # 82803-11 - SL 281 - SOLD

The unusual reflective quality of this pink, purple, and gold glaze will complement and mirror the complexion of the wearer when worn on bare skin. Surrounded by 6 delicate beads, a gorgeous pendant, approximately 1-3/4" long by 1/2" - 3/4" wide, hangs from a fuscia cord perfectly coordinates the hues of the beads. Clover knots and Double Connection knots are placed in between each bead to secure them in place. In addition, the unusual knotting system allows the length of the cord to be adjusted, from 14" to 30" long, by gently tightening it to make it shorter or pulling it apart to make it longer. This decorative piece is lightweight and easy to wear.